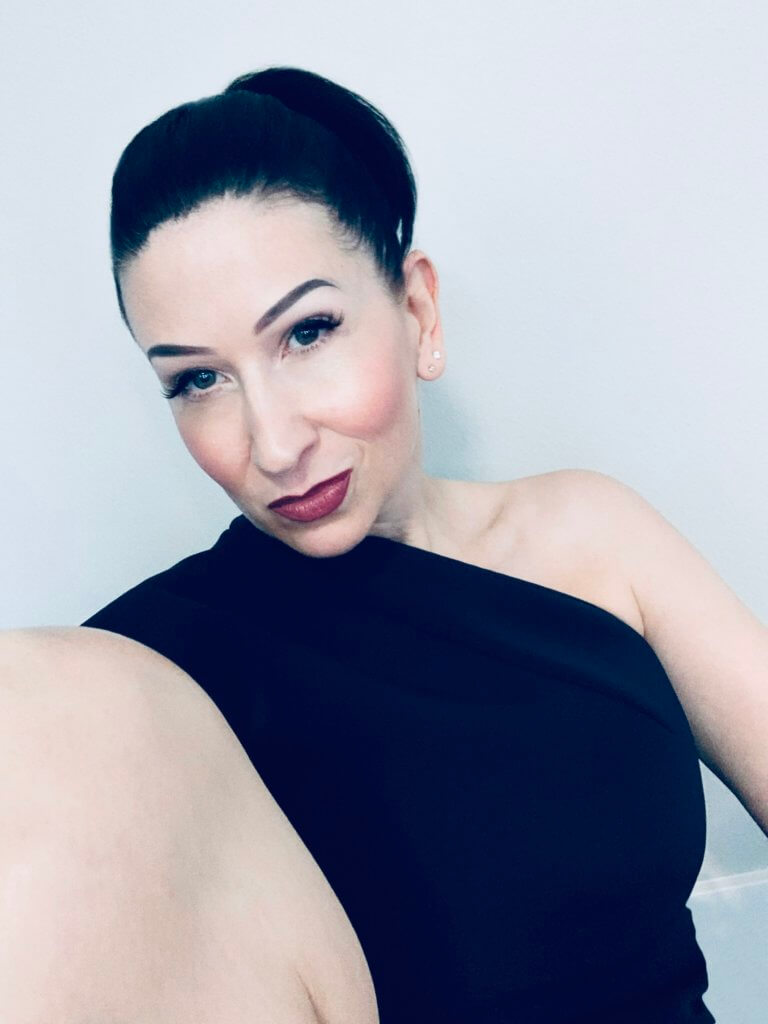 _________
If you're scrambling up the ladder of success in your Christian Louboutin stilettos, but secretly sobbing over your laptop wrecking your DIOR mascara – because you HATE creating marketing content, you need … MARKETING CRUSH.
MARKETING CRUSH offers a TOTAL TRANSFORMATION from…
Feeling like you have nothing to say in your marketing
Not knowing how to connect with your audience
Struggling with creating content consistently
To learning how to effortlessly knit together your content into one seamless marketing plan you can fall in love with. Again and again.
Warning: don't blame me if you end up daydreaming about your marketing for hours on end…
In Marketing Crush we'll roll out a game plan for revenue, rewards—and real results.
You'll get more engagement from your community.
You'll turn more followers into paying customers.
You'll fall head over heels in love with your marketing.'
And I promise by the time I'm done with you …
You will never feel like an icky transactional salesperson. I'll show you how to sell without "selling".
You will never wake up in the morning wondering, "What should I do to create content?" You'll have a content plan – and you'll WORK the plan.
You will never wonder if people actually want to hear what you have to say. I'll show you how to whip up mouthwatering content that gets likes, shares, and compliments.
My attitude? Women don't need more soft-spoken advice. They need proven tools, techniques—and most importantly—a marketing plan they're hotly infatuated with.
My proposal is unique: let me help you create a marketing plan (along with the mentorship to execute it). Invest in your future. Develop your model. Cement your financial independence. Keep 100% of the equity.
And remember: sobbing over your laptop is not a marketing plan.
LAUNCHING MARCH 2021
_________
BPTV
By Megan Otto

Do you know how long I put off emailing my list?
Exactly 225 days. 5,400 hours. 324,000 seconds.
That's how long.
And it was driving me insane.
My biggest issue? I felt totally stuck.
I didn't want to send out just *any* weekly email.
I wanted to send out a *killer* weekly email that people actually would be excited to read, shared my expertise, and, you know… I would actually be excited to write.
I had ideas for a weekly email but nothing felt quite right.
And then came Erika Lyremark.
Do you know how long it took her to transform my ideas into THE perfect weekly email with a // killer // name to match?
10 minutes.
T-E-N minutes, people.
I went from sending NO weekly email, to falling in LOVE with sending out my weekly BPTV email to my list (and judging by my open and click through rates… My subscribers are in love too).
Seriously, I'm obsessed with producing my weekly email – I feel completely in my creative zone of genius and I am having fun and I love promoting my opt-in!
There is no one else like Erika – her brilliance will blow your mind, transform your business, and make you fall in love with marketing what only you can do.
– Megan Otto, Brand Whisperer, Creator of BPTV
PUBLIC PERSONA
By Sarah Ashman
'Erika is like ANNA WINTOUR – except for business. Inspiring. Immaculate Insights. Opulent Opinions. Amazing Taste. Drive & Vision! What she says resonates so much I take that as the final word (like Anna Wintour)!'
With most people who I look to for their opinions, I take their reactions & advice with a grain of salt, glean from it little tidbits that resonate, ditching others- but with Erika, what she say resonates so much I take that as the final word.
Since I working with her, I've …
// Streamlined my business
// Launched my program MirrorBrand (and it sold out!)
// Spoke on a stage of over 1000 people in Las Vegas (despite struggling with a lifetime of stage fright)
And I'm in the process of preparing my business to be able to be a new mom.
How'd I manage to get all of this done?
I'll let her tell you.
Erika has been instrumental in giving me the cojones, the laser focus, and the momentum to have gotten to the point in my business where I FINALLY feel clear, comfortable, and confident in my direction … poised and ready for whatever may come next. I owe so much of that to Erika- who is so generous with her time, energy, sage advice – and when needed … a swift kick in the a$$.'
– Sarah Ashman, Creative Director & Style Maker
KIRA HUG MEDIA
By Kira Hug
'Erika is like Seth Godin, only with great hair and a mad sense of style.
She observes. She notices. And she turns her one-of-a-kind views on business into entertaining stories and actionable insights her clients can actually apply in their day-to-day.
When you enter Erika's orbit, you immediately feel heard, seen, and valued. And that feeling never goes away. Once you enter the inner circle, you're IN for life.'
– Kira Hug, Conversion Copywriter
HEROINE TRAINING
By Xandra Robinson-Burns
'When I first started working with Erika, she spotted my craving to put on a show. She urged me to branch into audio: to use my voice, literally.
This inspired me to create a podcast network, a patron-only podcast, a free audiobook opt-in (A Play in Three Acts), and audiobook versions to enhance my Letters From Jane Austen programme.

Now I podcast about tv and film, and have a go-to strategy for differentiating my creative writing from my marketing copy with a simple directive from Erika: Make it SO Gossip Girl!
WHO KNEW I COULD LOVE MARKETING. Erika did. That's who. Marketing Crush is like the fast pass line at Disney World.'
-Xandra Robinson-Burns,Writer & the Protagonist of Heroine Training
ELSIE ESCOBAR
By Elsie Escobar
'I owe my confidence and definitive point of view as a Podcast Advocate, pundit, and podcast mentor zeroing in on having conversations that shift the cultural norm directly to working with Erika and her masterful weaving of story, teachings and action taking.
Erika has provided me with the accountability and inspiration to keep going because this journey is not a short one (and it requires taking small deliberate actions every day).
It's the investment that catapulted me to who I am now as a thought leader in podcasting – championing women's voices with a heavy emphasis in diversity and challenging outmoded cultural dynamics.'
– Elsie Escobar, Co-Host – She Podcasts, Podcasting Specialist, Advocate & Pundit
QUEEN OF MY DAY
Ellen Holzshuster
'Working with Erika is a crush for your marketing and it's AND a boost for your Soul!
I embarked on the journey with Erika with a big vision in mind. She listens closely and has this magic drive to guide you fiercely thru all ups and downs. Her laser sharp point of views reminded me to tap into my source and power. She has the magic of my favorite energy of 'all is well'. No dogmatic label added!
There is no cookie cutter thing – it's about ALL YOU – the only thing: YOU have to do the work. And Erika is here to remind you: Do it YOUR way! You'll go from big visions to tangible outcome!
What I love the most? The direct interaction with HER. Not with a super skilled team member or assistant. YOU GET ERIKA! That's THE BEST!'
– Ellen Holzschuster, Astrologer for your Soul Business
AMBITION ALLY
By Natalie Lussier
'Her fearlessness rubs off on you and you can't help but want to take risks.
A dose of Erika is like taking Viagra for your confidence. She has an elegant way of saying what she means without it being rude. And … she's a negotiation master.
She's at the top of her game, and her game is making business more fun, profitable, and luxurious for business owners and clients alike. She's a pro when it comes to deciphering what's holding someone back, and how to get them moving forward again. Her mind, body, and spirit are constantly looking for ways to make other people's lives better, and that naturally translates into more sales, more happy customers, and bigger results for everyone she comes into contact with.'
– Nathalie Lussier, Founder & CEO Ambition Ally
THE SCHOOL OF SELF-IMAGE
By Tonya Leigh
'What Erika dishes out is the stuff that makes a woman's soul tingle, because she pulls out your truth and pairs it with her impeccable business knowledge.
I don't trust many people to give me business advice, because quite honestly, most of it is regurgitated materials that aren't relevant to my soul — counsel that makes me either yawn or feel icky.
But if you value your business and truly want to be the best at what you do, then you need to hire the best. That's why Erika is my GO-TO GAL when I'm feeling stuck or just need a kick in the derrière. She's one of the few people I will allow to french kiss my business.'
– Tonya Leigh, Founder of The School Of Self-Image & School Of Self-Image Podcast
LELA DAVIDSON
By Lela Davidson
'I swear by her guidance. Erika keeps me focused, grounded, and doesn't put up with any of my favorite excuses.
She always takes the long view of my business and while she encourages me to experiment, she also manages to keep me out of shiny object syndrome.
Did she have me at stiletto? Naturally. And although I was skeptical at first–shouldn't I be able to boss myself around?– I'm over that now. Way over.'
– Lela Davidson, Author, Blacklisted from the PTA & Creator of Portfolio
KAREN VAGO
By Karen Vago
'Erika has incredible business knowledge, plus a real and sincere interest in what I'm up to. I love her enthusiasm and commitment to our success.
Erika also truly gets what I'm about. Working with her, I feel taken care of, encouraged, and appropriately "whipped" when needed. She's made me 100% intentional in every area of my life and I love it. Intentionality lingers on my spirit like beautiful perfume.
– Karen Vago, Genetic Eating Expert, Nutritional Therapist, Coach
CONVERSION DESIGN SCHOOL
By Melissa Burkheimer

'Erika gave me a process, personally reviewed my framework, told me what I needed to fix, and I launched Conversion Design School™ a month after finishing my product brief, generating $7416 in sales during my first launch.
In 9 months of working with her, I've added 2 new offers to my business model, tripled my list size, and completely unleveled my business, and most importantly how I see myself. To have someone with her savvy, expertise and experience in my back pocket when I need their support is priceless.
It sounds cheesy, but it feels like Erika's the sister I go to when I need help, and she can solve any problem I throw at her. I would not be where I was now if it wasn't for her support and belief in me. For real. The Voxer + email access in Marketing Crush is priceless (she actually replies!), and hiring her was one of the best decisions I made in 2019
Run. Don't walk, if you're considering hiring Erika. Tell her I sent you. '
– Melissa Burkheimer, Sales Page + Conversion Designer
Founder of Conversion Design School™ at Melissa Burkheimer Studios
VANESSA HORN
By Vanessa Horn
'One of the grandest pivots that I made with Erika's help was to finetune my message to just doing high-end sales. She helped me see my zone of genius. And once I committed to that path, everything made sense. And now my business has grown and grown since being in Erika's inner circle.
She won't let you off the hook. She won't let you water your vision down. And that is rare.'
-Vanessa Horn, Creator of The Classy Close