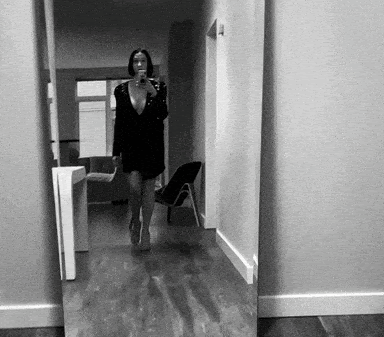 IF YOU HAVE TO TONE DOWN THE MAGIC
YOU ARE WORKING THE WRONG CROWD
If you think I just dropped out of the sky and onto the internet with jet-black bobbed hair, poured into a leather dress & a pair of stilettos––slick, bossy advice dripping from my bright red Tom Ford lips––you'd be wrong.
When I launched my business in 2005, I was afraid that if anyone knew about my former career swingin' round a stripper pole in my birthday suit & silver glitter stilettos, they would never take me seriously––or ever, ever want to work with me.
So I buttoned up––we're talking generic pantsuits, sensible heels, even pale pink brand colors. I also kept my most treasured characteristics tucked away: my passion for luxury, my striking stiletto collection, my gritty stripper past. Not even my beloved bossiness!
Finally, after four years of feeling boxed-in and bored, stifled and unseen, I knew that I couldn't continue (and would eventually fail) if I didn't let my true personal brand come out. So I gave myself permission to shed the 'professional' image I had worked so hard to curate (not to mention tens of thousands of dollars spent on marketing materials & impressive accoutrements) and slipped into something a bit more me––in 2009 The Daily Whip was born.
Shortly after I launched my website, I mustered the audacity to share my stripper story on stage in front of a group of young professionals. (Why start small, right?). Astonishingly, no one booed me––or threw rotten tomatoes. Rather, the crowd gave me kudos and compliments. My confidence skyrocketed. My personal brand took off. And I haven't looked back.
Everything I do in my business from the names of my products & services (TripleXpert, B.E.D. Elegant Hustling) to the titles of my books (Think Like A Stripper, Revenue, Results & Red Carpet Dreams, Very Very V), to how I sign my name (XXXO, Kisses + Whippings, Your Whip Leader) to the sharp advice I dole out (Be bold, or be mold!) is a reflection of The-ME-I-Love-To-Be: Extravagant. Alluring. Provocative.
This ME-I-Love-To-Be isn't a 9-5 gig…
It runs off line and into my 'real' life where The-ME-I-Love-To-Be gets to decide how I decorate (mostly monochromatic creams, beiges & blacks these days), to how I dress (minimalist & sleek with a puffer coat and a puffy sleeve thrown in for good measure), to how I design my relationships (I still don't share a bank account after 17 years of marriage), to how I run my business (scary simple & precise). It's wonderful, delicious and freeing to create a life & business––exactly as I want it.
And now that I'm moving into my silver years (I just turned 52), The-ME-I-Love-To-Be is still giving herself permission to be relevant, powerful and influential––even if I don't turn heads like I used to, I've got a purpose and a plan!
I'm setting the example (for myself and others) that as long as we're breathing, we have a choice in how we live our lives, how we design & adorn ourselves, how we shape our careers & businesses, and how we create & cultivate our personal brands––it's all a divine expression of YOU.
Do you want to come on the journey with me?
Join me in Permission Slip and get the coaching, inspiration & support you need to create a personal brand that expresses The-ME-I-Love-To-Be.
Erika genuinely LOVES her clients – with fierce pick-you-up-by-the-scruff-of-your-neck-cuz-it's-good-for-you devotion. She has a witchy way of getting to the crux of what's up, before you even have time to catch your breath. But you always thank her, later.
ALEXANDRA FRANZEN
Other coaches (might) keep you accountable. But Erika will make you brilliant.
NATALIE TAYLOR
Her fearlessness rubs off on you and you can't help but want to take risks. A dose of Erika is like taking Viagra for your confidence.
NATALIE LUSSIER
Erika has the charisma of a Superstar. The smarts of a Mogul. The instincts of a Maverick. Lyremark Magic should be experienced first-hand. If you feel drawn to work with her, listen to that voice. I did, and it was one of the very best business decisions I have ever made. VICTORIA ROLLER
When you enter Erika's orbit, you immediately feel heard, seen, and valued. And that feeling never goes away. Once you enter the inner circle, you're IN for life. KIRA HUG