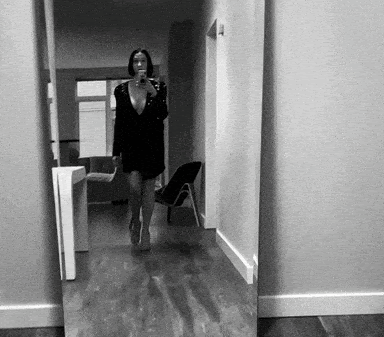 If you think I just dropped out of the sky and onto the internet with jet-black bobbed hair, poured into a leather dress & a pair of stilettos––slick, bossy advice dripping from my bright red Tom Ford lips––you'd be wrong.
When I launched my business in 2005, I was afraid that if anyone knew about my former career swingin' round a stripper pole in my birthday suit & silver glitter stilettos, they would never take me seriously––or ever, ever want to work with me.
So I buttoned up––we're talking generic pantsuits, sensible heels, even pale pink brand colors. I also kept my most treasured characteristics tucked away: my passion for luxury, my striking stiletto collection, my gritty stripper past. Not even my beloved bossiness!
I quickly discovered that whenever I told someone I was a certified "coach" they would back off like I was offering an unwanted bear hug. The only "coaches" they knew were hyper-positive camp counselor types who gave fluffy feel-good advice and wore ugly Christmas sweaters—a look I avoid like dry skin in February. I would rather help my clients take the world by the horns and accompany them on power suit shopping trips than sit in a circle singing Kumbaya. There was no bullshit advice in my portfolio, but my personal brand did nothing to prove that. I felt like a fraud. At networking events, instead of radiating confidence, I'd think, "Don't ask me what I do. Don't ask me what I do."  I knew I needed to ditch the "coach" title and be my own kind of brand.
Finally, after four years of feeling boxed-in and bored, stifled and unseen, I gave myself permission to shed the 'professional' image I had worked so hard to curate (not to mention tens of thousands of dollars spent on marketing materials & impressive accoutrements) and slipped into something a bit more me––in 2009 The Daily Whip was born.
Shortly after I launched my website, I mustered the audacity to share my stripper story on stage in front of a group of young professionals. (Why start small, right?). Astonishingly, no one booed me––or threw rotten tomatoes. Rather, the crowd gave me kudos and compliments. My confidence skyrocketed. My personal brand took off. And I haven't looked back.
Everything I do in my business from the names of my products & services (TripleXpert, B.E.D. Elegant Hustling) to the titles of my books (Think Like A Stripper, Revenue, Results & Red Carpet Dreams, Very Very V), to how I sign my name (XXXO, Kisses + Whippings, Your Whip Leader) to the sharp advice I dole out (Be bold, or be mold!) is a reflection of The-ME-I-Love-To-Be: Extravagant. Alluring. Provocative.
This ME-I-Love-To-Be isn't a 9-5 gig…
It runs off line and into my 'real' life where The-ME-I-Love-To-Be gets to decide how I decorate (mostly monochromatic creams, beiges & blacks these days), to how I dress (minimalist & sleek with a puffer coat and a puffy sleeve thrown in for good measure), to how I design my relationships (I still don't share a bank account after 17 years of marriage), to how I run my business (scary simple & precise). It's wonderful, delicious and freeing to create a life & business––exactly as I want it.

And now that I'm moving into my silver years (I just turned 52!), The-ME-I-Love-To-Be is still giving herself permission to be relevant, powerful and influential––even if I don't turn heads like I used to, I've got a purpose and a plan!
I'm a living example that as long as we're breathing, we have a choice in how we live our lives, how we design & adorn ourselves, how we shape our careers & businesses, and how we create & cultivate our personal brands––it's all a divine expression of YOU.

Do you want to come on the journey with me?
______
INTRODUCING PERMISSION SLIP
A Personal Branding Membership
STARTS FEBRUARY 1, 2023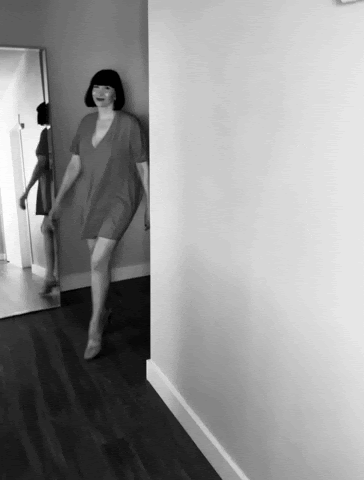 In Permission Slip, you won't be becoming what everyone else wants––the peer pressure to be average is intense! Or creating controversial or flashy stunts (or sex tapes) to get attention. Or constructing a message or mission statement just because it's trendy. Nor toning down your magic into something drab & dull. (I respect you far too much for that!)
And you won't simply be building a dynamic personal brand either––you'll get the support to live it out.
Personal brands are earned through daily action & accountability. Some actions earn you a couple of nickels. Other actions can earn you a big stack of crisp $100 bills. And others can make you a billionaire. (Look what Oprah has achieved with her heart-centered personal brand!) The more you do, the more you earn. The more you risk, the more you keep. And once those coins are in your bank, nobody can take them away from you.
With every bold move you make to embody your personal brand, you'll become more & more confident in your own je ne sais quoi. Effortlessly connected to the Universe––the real you will pour through.

And if people judge The-ME-You-Love-To-Be?
What's the problem?

Don't leave room for others to question who you are or what you're about. Save everyone the guesswork and give them the clearest path to knowing your personal brand. If they don't like what they see, they can move out of the way for those who love your style. (Speaking of Oprah, did you know her producers wanted her to change her now famous name?) You're not here to console them or offer apologies—your job is to give yourself permission to be The-ME-You-Love-To-Be. Today. Tomorrow. Forever.
There is only one of you in all time, this expression is unique. And if you block it, it will never exist through any other medium and it will be lost.
MARTHA GRAHAM
Make an asset of your faults. If you're tall, be taller– wear high heeled shoes. If you have a long neck, be proud of it, don't try to hunch over. If you have a long nose, hold it up and make it your trademark.
DIANA VREELAND
Two kinds of energy can transform: You can reach for what seems beyond you or wake up something new inside you.
JUSTINE MUSK
_______
THE GOAL
Throughout this journey–– regardless of how weird, odd, or offbeat you consider your ideas to be––you will create, design, and bring life to your very own Permission Slip as well as become the The-ME-I-Love-To-Be. Ultimately evolving into a living embodiment of your personal brand in your private & professional life.


HOW IT WORKS
– We kick off every month with a private video packed with fun stories, personalized prompts, and ideas for your very own Permission Slip. (Like the time I was UNinvited to a speaking gig I had already started promoting––and how I leveraged their rude behavior into a huge opportunity for my personal brand.)

– We meet twice a month on Zoom for a dynamic, group conversation on being The-ME-You-Love-To-Be in your life, your relationships, your business, your career, your style, your home, even your hair-do! I'll ask you provocative questions––guaranteed to expand your personal brand, give you instant clarity on what to do next, and reveal how to be your most daring, creative & fully expressed self. You'll be challenged. And you'll love it.
– We create, craft & exchange ideas for our permission slips 24/7 in our private Facebook Community. Packed with the coolest people I know, this virtual clubhouse is where lifelong friendships are formed, connections get made, and powerful personal brands are born.
READY TO WRITE YOUR
PERMISSION SLIP?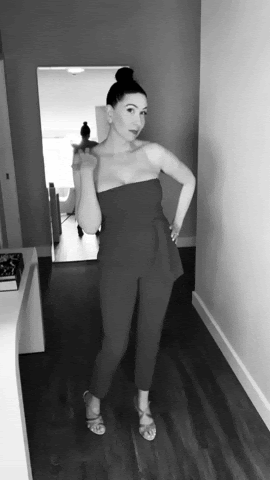 BECOME A FOUNDING MEMBER TODAY!
There are plenty of people with ho-hum, same-old personal brands, yet VERY few who rise above the ordinary, stay true to their vision — and do it with a vivacious gleam in their eye. Permission Slip will help you join their ranks, and have a lot of fun doing it. So if the pain of feeling bored & boxed in, stifled & unseen is crushing your potential and joy, it's time to give yourself permission to slip into something a bit more you and become The-ME-You-Love-To-Be.


As long as you don't leave Permission Slip, your monthly pricing is guaranteed for life.
P.S. You don't need a business to join Permission Slip (this is personal branding, not business branding.) However, you must have a strong desire––and the willingness to explore & experiment being fully self-expressed across every facet of your personal & professional life. If you have any questions, email me or DM me.
When does it start? February 1, 2023.
What days of the week & time do we meet? We typically meet on the 2nd and 4th Tuesday or Wednesday of the month. Days & times will vary to accommodate as many members as possible. The schedule will be sent out on the first day of every month.
Are there call replays? Yes. They will be emailed to you and posted in our private Facebook community.

Can I cancel my membership anytime? Yes! But your $57 a month founding membership fee will potentially increase if you quit and then come back. Also, there are NO refunds.
What are the terms of service? You can review them here.
Erika genuinely LOVES her clients – with fierce pick-you-up-by-the-scruff-of-your-neck-cuz-it's-good-for-you devotion. She has a witchy way of getting to the crux of what's up, before you even have time to catch your breath. But you always thank her, later.
ALEXANDRA FRANZEN
Other coaches (might) keep you accountable. But Erika will make you brilliant.
NATALIE TAYLOR
Her fearlessness rubs off on you and you can't help but want to take risks. A dose of Erika is like taking Viagra for your confidence.
NATALIE LUSSIER
Erika has the charisma of a Superstar. The smarts of a Mogul. The instincts of a Maverick. Lyremark Magic should be experienced first-hand. If you feel drawn to work with her, listen to that voice. I did, and it was one of the very best business decisions I have ever made. VICTORIA ROLLER
When you enter Erika's orbit, you immediately feel heard, seen, and valued. And that feeling never goes away. Once you enter the inner circle, you're IN for life. KIRA HUG