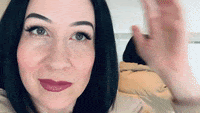 I speak frankly about entrepreneurship, business obstacles, self-expression, stripper poles. I'm an enigmatic storyteller, with concrete tips & techniques to share about sales & marketing success, personal branding, and gaining business confidence like:
Make sure every email you send to your list has a dose of 'copywriting-cleavage'
What this highly unusual Fendi item can teach you about getting sales in your business
How to harness Kardashian-level creative power to make any product or service desirable
Unless you're a private client, you won't find these provocative ideas anywhere else. Not on my website. Not on my Instagram. Not in my book. The only way to get them is to become an email subscriber.
It's time to turn BORING into BOLD. I'll show you how.
'When The Daily Whip lands in my inbox, I dig into it like a kid at Christmas. Erika never fails to deliver a biz related point of view I hadn't considered—beautifully wrapped in a story that inspires me to rethink how I do business.' – Tracy Elizabeth Roman, Spirit Renegade
'Erika doesn't just have a gift for business. She has an insane knack for looking at your business and your gifts, and knowing what you need to do with it all. And, of course, she's famous for getting you to follow through. Plus, she's the kind of person who'll think of an idea for you and jump on the phone to tell you. Who's that generous, and who still uses the phone?' – Laura Belgray, Founder of Talking Shrimp & Co-creator of The Copy Cure

Erika makes being the boss of your business fun with her impeccably researched articles sprinkled with a dash of humor. Skip the boring textbooks and learn from Erika instead , I promise, it will be much more engaging!" – Shauna Haider, Creative Director, We Are Branch

'Erika's articles are like VOGUE meets Harvard Business Review. Well researched, beautifully presented, succinct and informative – plus interesting points and insights. Bravo!' – Michelle Yvonne, Girl About Town & Business Strategist