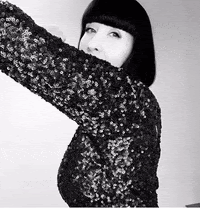 ERIKA LYREMARK
______
Showing early entrepreneurial skills when she let her brother throw a pie in her face for $5, Erika Lyremark (Lira-Mark) wheeled and dealed her way through high-school, earned degrees in Apparel Design and Women+ Studies (with an emphasis on China Studies), spent 9 years swinging around a stripper pole, went on to co-create a multi-million dollar commercial real-estate investment company, and create The Daily Whip where she's whipped thousands of businesses into shape with her unconventional ideas and whip-smart advice.

Erika documented her experiences in her best-selling book Think Like A Stripper, lauded by Dan Pink as "a smart and provocative read", while Shark Tank's Barbara Corcoran says "Erika will not only whip you into shape with her wit, humor, and no-nonsense advice, but show you how to bounce back from failure and become the confident sales superstar you're meant to be."

Ms. Lyremark spends her leisure time…
Watching reruns of the original Gossip Girl,
Eating take-out with her hunky husband,
Admiring photos of Elo – her adopted orangutan who lives in Indonesia.
And texting the Bugatti headquarters with suggestions on what to call the next generation of sports coupes. The Lyremark, of course.

SIGN: Freedom fighting Aquarius, with a sexy stellium in fiery Sagittarius.
FAVORITE LIPGLOSS: "SO MOD" by RODIN with jasmine and neroli olio lusso – so luxurious. It's like biting into a piece of heaven.
LIFE MOTTO: Have fun. Make money. Go shopping.
FASHION OBSESSION: Prada patent leather deerskin handbag – swoon.
CELEBRITY OBSESSIONS: Kim Kardashian, Tamara Mellon, Kara Swisher – the lips, the eyes, the ambition! These ladies know from world domination.
PERSONAL HEROES: Her Mom for teaching her how to forgive like my life depends on it. And her Dad for showing her how to be relentless & creative in getting what she wants. Together, they made Erika compassionately unstoppable.
You can follow her on Instagram or TikTok.

Or go here to join her FREE coaching program.
COLLABS

Very Very V
AS SEEN IN
Forbes
SUCCESS

Entrepreneur

Spark & Hustle
Off The Charts Live

Entrepreneur On Fire

Entrepreneurs Organization

Tournament Players Club

The Unmistakable Creative

University Of Minnesota Entrepreneurship Club
LISTEN NOW
How To Eliminate Decision Fatigue / Make It Mentionable

Bold Marketing Trends You Need To Know / Design Business Show

Why Isn't Anyone Buying From Me? / Woman UnZipped

Getting Seductively Simple / Pretty Pretty Podcast
Crafting A Business / The Art Life
Business Lessons From Stripping / The Get Paid Podcast
How To Use Your Point Of View To Design Your Services / The Design Business Show
The Red Carpet Dream With Erika Lyremark / The Copy Club
Why Popping Personality into Your Copy Consistently Closes More Sales / The Copy Chat 1.0
Why You Can Kiss Your Sales Page Goodbye! / The Copy Chat 2.0
Get Product Confidence With Erika Lyremark / Rebel Uprising Podcast
Moments Of Creative Daring / The Unmistakable Creative Podcast
The One About How To Sell Your Podcast / She Podcasts
'Erika knows what's up when it comes to running a successful business and she doesn't hold back on sharing her hard-earned secrets. She makes reading fun with her impeccably researched articles sprinkled with a dash of humor. Skip the boring textbooks and learn from Erika instead, I promise, it will be much more engaging!" – Shauna Haider, Creative Director, We Are Branch
'Erika doesn't just have a gift for business. She has an insane knack for looking at your business and your gifts, and knowing what you need to do with it all. And, of course, she's famous for getting you to follow through. Plus, she's the kind of person who'll think of an idea for you and jump on the phone to tell you. Who's that generous, and who still uses the phone?' – Laura Belgray, Founder of Talking Shrimp & Co-creator of The Copy Cure
The first time I met Erika Lyremark, I was completely intimidating. She was a chic-mama-jama with jet black hair, poured into a silver dress & a pair of stilettos. Legs for miles. Sharp as a tack. Impenetrable power, embodied. Her business was called The Daily Whip. And lemme me tell you – I feared the whip! It took a year of friendship, collaboration, and Galactic Pizza before I realized the truth about Ms. Lyremark: this woman eats, sleeps and breathes BUSINESS. She can't step into a salon, restaurant, or post office without insta-cataloging 17 ways the biz could be stronger, more irresistible, more elegant – and her instincts are impeccable. Better still: She genuinely LOVES her clients – with fierce pick-you-up-by-the-scruff-of-your-neck-cuz-it's-good-for-you devotion. She has a witchy way of getting to the crux of what's up, before you even have time to catch your breath. Her whip is fierce & unforgiving. But you always thank her, later."– Alexandra Franzen, Author, 50 Ways to Say You're Awesome