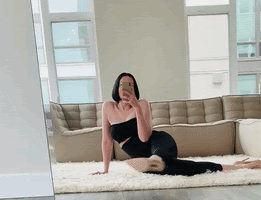 There's something I hear again and again from my clients when I ask why they decided to work with me. They say, "Erika, you're so confident, I just want it to rub off on me!"
People assume that to be a stripper (for 9 years, no less), you've got to have some big cojones.
And they're right. But not for the reasons you think.
It's not about getting naked.
Trust me, you get over that part real quick.
But to actually make money as a stripper, you have to have the confidence to ask for the sale, again and again – just like you do in any other business.
Sure, guys show up ready to hand over their hard earned money, but there are 20 other strippers who also showed up, ready to out dance you for every dime.
To be the stripper who gets the dance (and the cold hard cash), I had to saunter onto the stage acting as if every guy in the club was there to give ME his money, and no one else. It was all mine.
Because here's the thing, if you don't believe you can get the job, make the sale or win the contract, no one else will, either.
If you're confident before the sale, you'll follow through with the same money-attracting charisma that will make people want to work with you.
And the key to being confident is being cool and collected—not cocky and desperate—even if everything isn't perfect.
My biggest money making nights had nothing to do with how fabulous and sexy I looked and smelled, or even how drop-dead amazing my stage performances were.
I banked when I brought fun energy and a good attitude to the dance floor.
You'll read more about this in the intro to the book where I tell the story about the one night I decided not to give a hot-damn about my appearance, I was simply there to have a good time.
I didn't comb my hair, or powder my nose, or fix my lipstick – and I got so sweaty, I eventually looked more like a mug shot than a showgirl. And despite my less-than-gorgeous appearance, I banked, baby, banked!
Too many entrepreneurs worry about the stuff that doesn't really matter, instead of focusing on their bigger game. And that's one of the many reasons I wrote, Think Like A Stripper.
'Settle in for a great read.' – Justine Musk, Bestselling Author of BloodAngel & Lord of Bones
'SO great!' – Gala Darling, Author of Radical Self-Love'
'Want to thrive as an entrepreneur? Erika's book will help you do just that! Erika will not only whip you into shape with her wit, humor, and no-nonsense advice, but show you how to bounce back from failure and become the confident sales superstar you're meant to be.' – Barbara Corcoran, Star of ABC's hit show Shark Tank, Founder of Corcoran Group & Author of Shark Tale
'This book might surprise you. In it, Lyremark distills her unusual career and experience into savvy, actionable advice on how to leave your comfort zone, how to handle success and failure, and how to stay sane under pressure. This is a smart and provocative read.' – Dan Pink, #1 NY Time Bestselling Author of A Whole New Mind
Erika's smart storytelling and practical business advice will give you the double shot of confidence you need to ask for the sale, up your money game and be a leader in business.' – Tory Johnson, #1 NY Times Bestselling Author of The Shift