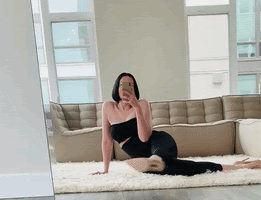 As a former stripper, Erika Lyremark has seen it all: disrespectful club managers, cutthroat dancers, and a never-ending supply of sleazeballs. Not to mention thousands of hours in six-inch stilettos.

Nine years in the industry left her with no desire to ever return; but her experiences there–more than either of the college degrees her stripping career paid for–proved to be her real education. By the time she walked away from the pole, she was more prepared for success than she could have ever imagined.

Beneath the stigma of this enigmatic industry, Erika uncovered the secrets of success. Think Like A Stripper is an insider's pass into an infamous industry you'll probably never be part of–but could stand to learn a lot from. Whether your goal is to build your business, increase your sales, or expand your marketshare, Erika delivers the lessons you need to thrive as an entrepreneur.

Filled with hilarious anecdotes, whip-smart tales & cheeky stories, Think A Stripper: Business Lessons To Up Your Confidence, Attract More Clients & Rule Your Market will have you laughing your panties off, calling up your girlfriend to share your 'ah-has' and teaching you things you NEVER learned in business school – but should have
'Want to thrive as an entrepreneur? Erika's book will help you do just that! Erika will not only whip you into shape with her wit, humor, and no-nonsense advice, but show you how to bounce back from failure and become the confident sales superstar you're meant to be.' – Barbara Corcoran, Star of ABC's hit show Shark Tank, Founder of Corcoran Group & Author of Shark Tale
'Settle in for a great read.' – Justine Musk, Bestselling Author of BloodAngel & Lord of Bones
'This book might surprise you. In it, Lyremark distills her unusual career and experience into savvy, actionable advice on how to leave your comfort zone, how to handle success and failure, and how to stay sane under pressure. This is a smart and provocative read.' – Dan Pink, #1 NY Time Bestselling Author of A Whole New Mind
'SO great!' – Gala Darling, Author of Radical Self-Love'
Erika's smart storytelling and practical business advice will give you the double shot of confidence you need to ask for the sale, up your money game and be a leader in business.' – Tory Johnson, #1 NY Times Bestselling Author of The Shift
________
INTRODUCTION: WISDOM FROM THE STRIP
While constructing this book, I ran into a problem. During the nine years I danced, there were two stories happening. There was the Erika who was ambitious and optimistic, who knew she was meant for great things—the Erika who loved school and dreamt of one day being a hugely successful businesswoman.

Then there was the Erika who truly thought she could survive the enormity of the adult entertainment industry. I started out strong, naive and believing in the freedom to express my sexuality and to exploit my body for profit. I was young and headstrong. The last five years I danced, I was depressed, anxious and hopeless. By year seven, I was looking for happiness in a bottle. In the end, I was blessed with assistance from friends, family and many other supporters who helped me exit the industry.

When I left the strip club world in 2001, the only people who knew I used to be a stripper were my family, the few friends I had remained close with and my then-boyfriend— now my husband. I was self-conscious of the time I'd spent on the pole and saw no reason to bring it up. Ever.

However, life had a different plan for me. In 2005, when I decided I wanted to have a global company, I knew that I would have to tell my story, or someone else would. But I didn't want to write the typical story that's usually told. I didn't want it to be an autobiography of victimhood. I wasn't a victim. I wasn't abused or forced into the industry. I wanted to share the important business and life lessons I'd learned while swinging around the pole. It took a lot of yoga, meditation and coaching, but I was able to not only make peace with my past but embrace it. With a bit of distance between me and the pole, I was able to see the strength in my history, not just the depression that I'd suffered because of it.

Being a stripper requires courage (and lip gloss. Lots and lots of lip gloss).

Thousands of men— and women—have seen me onstage, spinning and twirling in my birthday suit. (Well, I did have stilettos on.)

I've performed more lap dances than I can count for every type of person: business executive, rock star, accountant, construction worker, farmer, celebrity, professional athlete, college student, etc.

You name 'em. I've probably lap danced for 'em.

A few years ago, I did a rough calculation of how many times I asked for the 'business' when I was a stripper.

The answer?
316,000 ASKS!
Do you want a dance?
Do you want a dance?
Do you want a dance?
Over and over. Night after night. Year after year. For 9 years.
I've worked in the same room as my cutthroat competitors. And often joke that working in a strip club is like being incarcerated.
You've got to stand up for yourself, watch your back, and become friends with the right people – because some of those ladies were meaner than a pissed-off pitbull in a dog fight.
If that's not bad enough, dancers would steal one another's clothes and cash. One time, a dancer punched another dancer in the face with a drinking glass, sending her straight to the emergency room.
I've had to negotiate with cheesy DJs, macho bouncers, perverts, jerks – and disrespectful strip club managers.
On the flip-side some parts weren't so bad. Many of the DJs, bouncers, managers, customers and dancers were swell. And to this day, I wonder what they're up to.
But the best part? The fast cash, flexible hours, and drama – more drama than a Real Housewives of Beverly Hills slumber party at the Ritz-Carlton.)
During the 9 years that I stripped I was also working my way through two college degrees – one in Apparel Design and the other in Women Studies. Yeah, you might not picture a girl in a G-string tackling a degree in Women Studies, but I've got the transcript to prove it.
But it wasn't in the classroom and it wasn't through my "respectable" career pursuits that I learned how to succeed in business. I learned it on the pole.
Every bit of success I have these days can be traced back to my trials and triumphs in the club.
If I could survive nearly a decade bathed in neon and sweat and go on to co-create a multimillion-dollar commercial real estate investment company with my Dad and start my own successful business coaching consultancy, I knew others could benefit from my story, too.
I just didn't know how to tell it . . . until 2009, when I noticed an unsettling mood sweeping over my clients. The shaky-economy doomsday gloom spewing from every media outlet was poisoning my clients' thoughts, and they were second-guessing their abilities to succeed. I remember watching a report on a morning talk show claiming that America wasn't in the throes of a financial crisis, but, rather, a confidence crisis. Investors feared their money wouldn't produce returns, and Americans were responding by hoarding cash instead of spending it. The same fear infiltrating the country seemed to be paralyzing my clients. I couldn't let that happen. I needed to find an inspiring way to convey my belief in them so they could proceed in their businesses with confidence.
After having lunch with a colleague who was expressing concerns about his own business, I had an epiphany. I'd been in his situation before, so I told him a story that I thought would inspire him.
His clients were hoarding their money instead of spending it. And as a financial advisor, it was his job to get his clients to invest in the stock market.
I could relate.
You see, when I was a stripper, the club wasn't always packed with customers ready to hand over their weekly pay. Some nights were slow. And on those nights, when customers were few and far between, every stripper became obsessed with finding the costume that would make her the most cash.
First, she'd try the polka-dot bikini.
Then she'd put on the Hawaiian style bikini with palm trees and coconuts and head back out to see if it would make her more money.
Then she'd don the ever-popular hot-pink bikini and see what the meager crowd thought of her in that one.
If that didn't get results, she might swing back to polka dots, or rummage through the dressing room for something new.
It was the same with shoes: silver glitter platforms, metallic gold pumps, strappy white stilettos, black thigh-high leather boots.
Hairstyles flew into a blur of up-dos, down-dos, ponytails and pigtails.
Imagine a never-ending stream of three dozen women flooding in and out of a cramped dressing room, frantically trying to find the outfit guaranteed to snag her another lap dance.
It was mayhem! Chaos!
And I was one of those desperate, crazy ladies.
On one of these slow nights, I was in a super fab mood, even though I was certain I wouldn't be coming home with lots o' coin.
I was tired of all the costume changes—and extra loads of laundry!—so I decided on that night, I wasn't going to give a hot fuck about making money. I was simply going to have a good time.
I didn't comb my hair, or fix my lipstick, or powder my nose, or refresh my perfume.
I wore the same outfit all night long, and eventually I looked more like a mug shot than a showgirl. I spent the night laughing my ass off, asking for ridiculous amounts of money just to see if I could get it.
And you know what? It was one of the best hustles of my life.
Clearly, making money had less to do with my bikini than with my attitude.
I hadn't realized it before, but that strategy had stuck with me, and I'd put it to work again and again – not just to make money stripping – but in my other business ventures.
That day at lunch, when I told my colleague how I banked looking more like a mug shot than a showgirl, his eyes filled with hope about the economic possibilities of making "fun" a part of his business plan.
Once I saw how inspired he was from one little story about an itsy-bitsy bikini, I knew I HAD to share more of these stripper stories.
So I blogged about it and named the post "It's Not About the Bikini: Nine Steps to Thrive in the New Economy."
I sent it out to my email list, and shared it with some of my other colleagues. From there it kinda went viral. "It's Not About The Bikini" was so popular it was even reprinted in a retail trade magazine in India! Can you imagine?
I was excited about my new-found fame (imagining Oprah would call me any day for an interview) and shared the good news with my friend Mark Levine.
Mark knew I'd been toying around with the idea of writing a business book for several years. And when I told him about my blog post, he got a big smile on his face and said, "Erika, why don't you call your book Think Like a Stripper?
Then each chapter could be a business lesson you learned while stripping, then after you give the lesson you could give advice on how to apply that to your business."
Of course! Why didn't I think of that?
Then in my cocky confidence, I bet Mark that I'd have the rough draft of the book done in 60 days. The bet? The loser would have to take the winner to Manny's Steakhouse: The only place in Minneapolis you're guaranteed to spot a celebrity.
I went home that night, whipped out my collection of neon-colored Post-It notes, fluorescent highlighters, a new Russell + Hazel notebook, a stack of Le Pens and got to work.
Two weeks later I called Mark. "Hey. I've written 3 pages. I'm out of ideas. Now what … ?"
Mark laughed. "Get back to work. That's what," he replied.

FOUR years later, I finally finished.
Even though I lost the bet, once my book was done, Mark was nice enough to still take me to Manny's to celebrate.
Now before we get started here's a few things you should know about Think Like A Stripper.
Honest hustling is imperative if you want to truly succeed in business, no matter what you're selling. It's about building long-term relationships and providing the absolute best products and services possible. It's about making a name for yourself.
And speaking of making a name, I've made a name for almost everybody in the book and disguised a few identifying details to protect the innocent—and the guilty. Although the essence of the stories is true, I've exercised a bit of creative license for your entertainment and to help make sense of it all.
This book is written from the perspective of the woman I've become – not the woman I was when I left the industry in 2001.
When I stripped I was in my 20s, went to bed at 4:00 am, and lived on cigarettes and tequila.
Now I'm a married lady in my 50s, go to bed at 10:00 pm, and live on green smoothies and more green smoothies.
So while this story is called Think Like a Stripper, it could just as easily be called Think Like Erika.
But what fun would that be?
And remember having FUN is essential if you want to UP your confidence, attract more customers, and rule your market.
Ready to go?

Slip into your stilettos. Step up to the stage. You're about to learn how to think like a stripper.