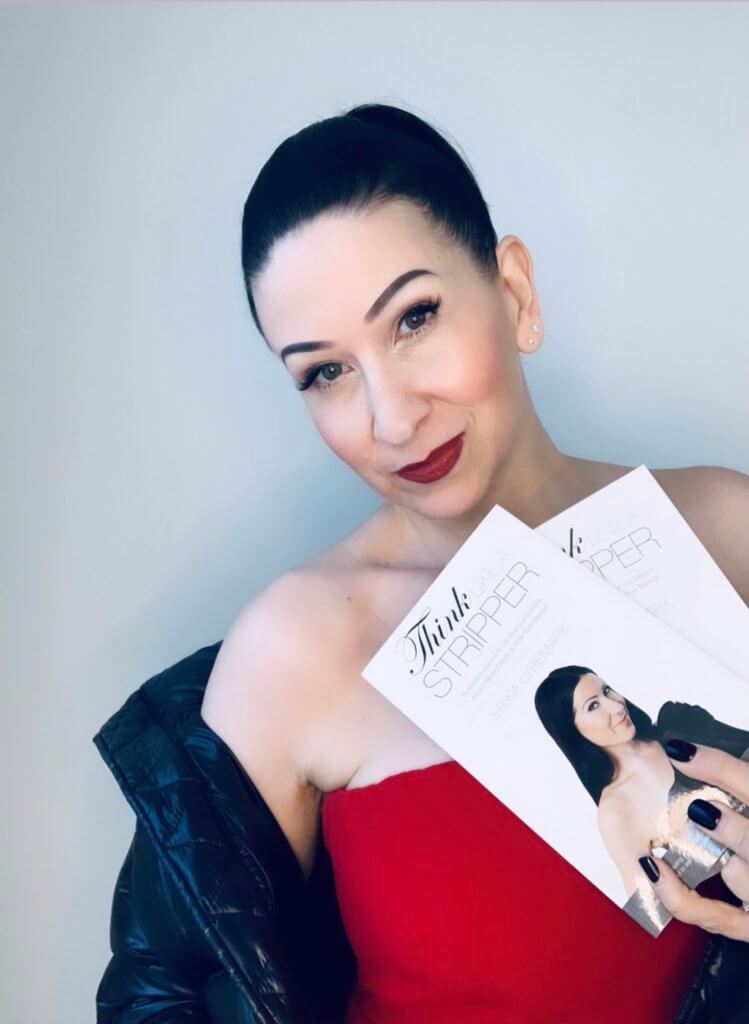 Filled with hilarious anecdotes, whip-smart tales & cheeky stories, Think A Stripper: Business Lessons To Up Your Confidence, Attract More Clients & Rule Your Market will have you laughing your panties off, calling up your girlfriend to share your 'ah-has' and teaching you things you NEVER learned in business school – but should have.
Buy Think Like A Stripper. And get 68 tips to help you …
Put the muscle in your (elegant) hustle.
Discover your business seductress style.
Turn your customers on. And on. And on.
'Want to thrive as an entrepreneur? Erika's book will help you do just that! Erika will not only whip you into shape with her wit, humor, and no-nonsense advice, but show you how to bounce back from failure and become the confident sales superstar you're meant to be.' – Barbara Corcoran, Star of ABC's hit show Shark Tank, Founder of Corcoran Group & Author of Shark Tales
'This book might surprise you. In it, Lyremark distills her unusual career and experience into savvy, actionable advice on how to leave your comfort zone, how to handle success and failure, and how to stay sane under pressure. This is a smart and provocative read.' – Dan Pink, #1 NY Time Bestselling Author of A Whole New Mind
'Settle in for a great read.' – Justine Musk, Bestselling Author of BloodAngel & Lord of Bones
"Think Like a Stripper is overflowing with candor, smarts and Erika's down-to-earth, no-nonsense approach to business and life. Accessible, appealing and whippin' hot!" – Angela Jia Kim, Founder, Savor Beauty
'SO great!' – Gala Darling, Author of Radical Self-Love
'Erika's smart storytelling and practical business advice will give you the double shot of confidence you need to ask for the sale, up your money game and be a leader in business.' – Tory Johnson, #1 NY Times Bestselling Author of The Shift
"If you're serious about your business dreams, follow Erika's advice. This book is a wonderfully entertaining and actionable guide to help you grow your enterprise." – Tara Hunt, Author, The Whuffie Factor: Using the Power of Social Networks to Build Your Business
"Erika is smart, hilarious and completely bullshit-free. If you're a gal looking to build a career and a life that gives you permission to be yourself every damned day, you'll be smiling as you turn the pages. More business advice should be as bullshit-free as this—so take a page from her stripper book and strip your business down to who you are, what you need and what you want." – Erika Napoletano, Author, The Power Of Unpopular
"Erika Lyremark is fearless, tenacious and bright. If you're not afraid to boost your sales and your bottom line, read her book—and if you are, read it faster!" – Jane Dailey, Co-founder, Hollywood Fashion Secrets
"Erika's innovative approach will shake up your business with crucial info about working with a team, dealing with the competition, and closing a sale, and proves why learning how to do the splits will pay off." – Melody Biringer, Founder, WiT REGATTA